What do you think? Add your comments in WARPIG's TOURNEY TALK FORUM
April 1, 2012
2012 PSP Phoenix Open
Field Preview
April 20-22, University of Phoenix Glendale Soccer Complex, Glendale, AZ
Citing numerous reasons, including "With the severe weather being what it was in Galveston, we do not feel it was possible for the layout to be played as it could have been..." and "The Pro teams were unable to complete all of their Galveston Island games," Paintball Sports Promotions has "decided to use the same field layout in the PSP Phoenix Open as was used at the PSP Galveston Island event."
While we at WARPIG.com are happy to bring you Virtual Fieldwalks to preview your tactics for upcoming tournaments, recreating the PSP Galveston fields in a real-time virtual reality environment proved to be a challenge, but we are glad to say that through fluid dynamics simulations of wind and water, and the addition of a "snorkel mode" to simulate playing the snake, we are able to provide a Virtual Fieldwalk of this now famous field layout.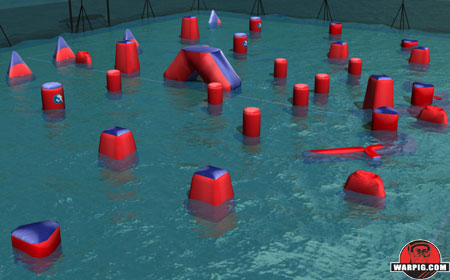 April Fools!
Make sure you have Java enabled in your web bowser then click/drag your mouse over the virtual reality image below to walk the fields of the real field layout that will be used in Phoenix, the...
2012 PSP Galveston Island
Field Preview
March 9-11, Galveston Island Paintball, Galveston TX
All event fields will utilize the same layouts of Sup'Air bunkers. For a printable grid-layout map, click here.
Navigate with mouse by dragging with the left mouse button to turn or move. After clicking the mouse once on the virtual field you may also navigate with the keyboard - use A,W,S and D to move, and arrow keys to turn/look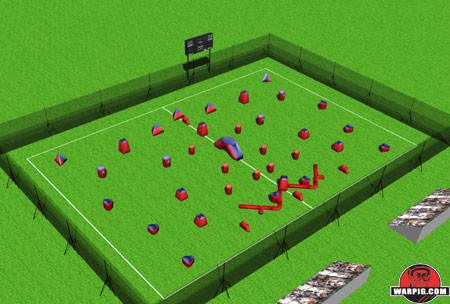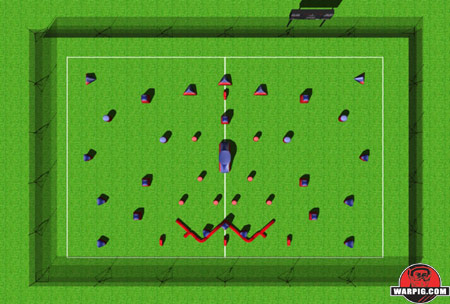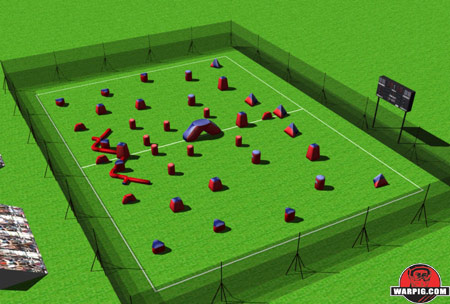 WARPIG.com Field Preview Illustrations are based on field maps published by PSP Events, and Sup'Air's published bunker dimensions. On-site variance may occur due to set up error, unplanned field changes or variance in scale. Bunker colors and graphics are for illustrative purposes only.