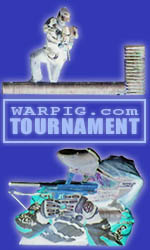 What do you think? Add your comments in WARPIG's TOURNEY TALK FORUM
USPL West Coast Open
July 24-26, 2009
Corona, CA
After their first event in April of this year, at the now famous site of tournament painball along the shoreline in Huntington Beach, California, the USPL shifted locations to yet another show-stopper field that has had its roots in southern California paintball since the 1980's, SC Village in Corona, California.
The league faced a setback after their May event scheduled for Washington DC had to be moved to August. The USPL team numbers for the West Coast Open were much lower than that of Huntington Beach with 7 man boasting just 44 teams after 71 in April. Five man teams were lower as well, though not by the same margin with 25 teams hitting the fields in comparison to the 34 that were on the beach.
Following the preliminaries the 7 man competitions moved onto the quarter final rounds with DC Arsenal taking top spot after winning all 7 of their games, the only Pro team to have that distinction for the event. Joining them in the quarter finals were Oakland Blast, Dynasty, Los Angeles Infamous, Indianapolis Mutiny, OC Bushwackers, St. Louis Avalanche and X-Factor who made the cut with three wins out of 7 and a total of 336 points. The D1 teams wrapped up their preliminary rounds with Dynasty Entourage in the top spot. Warped Army, Arsenal Evolution and Hollywood HK would join them in the semi-final rounds. Rockstar Factory, Factory Black and The Outfit were sent home after their 8 prelim games. D2 teams had Arsenal Predators in top form after a single loss in their eight preliminary games. Joining them at the quarterfinal round would be One18, Infamy, Stoned Assassins, Senate, SCP Epic, Monster Hitmen and Black Cell. D3 teams blew through their prelim games with Impact Kids heading into the quarters. SCP Edge, Dark Riders, Retribution, Rockstar Wrecking Crew, LA Distraction, LA Suicide and CXP United would play again later in the event.
The 5 man squads showed Open class team LA Hitmen on top after dropping one of their 6 games during the preliminary rounds. Joining them in the top four was Hard Eight Feat Flipps Out, Fieldoffire and PaintballGateway. The D3 five man teams had The KGB Mo on top after a single drop in their 8 prelim games. Joining them in the next round of games was Team Rip, RNT Kidz, Surgical Strike, Fresno Misfits, Good for Nothing, Hellcats and Free Agents. After their next round of games, Fresno Misfits, Team Rip, The KGB Mob and Good for Nothing had proven themselves and would be moving onto the semi-final round.
Quarterfinals saw the 7 man Pro teams with seven games for the eight teams competing to move half of their number into the semi-final rounds. DC Arsenal continued their top ranking with St. Louis Avalanche, X-Factor and Oakland Blast moving on. D2 Quarters saw Senate, Infamy, Arsenal Predators and Monster Hitmen moving on and D3 teams had Rockstar Wrecking Crew, Impact Kids, LA DIstraction and SCP Edge hitting the semi-final fields.
Semi-finals had St. Louis Avalanche on top over X-Factor after 2 wins in three games, giving them a shot at first place in the finals. Battling them for first place would be DC Arsenal after their win over Oakland Blast. Dynasty Entourage beat out Hollywood HK and Arsenal Evolution took down Warped Army for their shots at first place in the finals. D2 teams Infamy and Senate would battle for first after Infamy's win over Monster Hitman and Senate's wins over Arsenal Predators. D3's Impact Kids took down Rockstar Wrecking Crew and SCP Edge took down LA Distraction.
Five man D3 team Team Rip took down Good for Nothing with two maxed games to vie for first place with The KGB Mob after their narrow margin win over Fresno Misfits.
Open class five man saw LA Hitmen in first after winning their two games. Paintballgateway took second, Hard Eight Feat Flipped Out placed third and FieldofFire went home with a fourth place trophy.
Finals for D3 five man saw The KGB Mob in first over Team Rip, with Good for Nothing in third after their games over Fresno Misfits.
Finals for the 7 man teams saw LA Distraction losing to over Rockstar Wrecking Crew for fourth place in D3 while Impact Kids beat out SCP Edge for the first place win. D2's third place went to Arsenal Predators after their traded game with Monster Hitmen, while first place was secured by Senate afrer their win over Infamy. D1 fourth place was Warped Army after their game with Hollywood HK and Dynasty Entourage took down Arsenal Evolution for first place win in the D1 division. Professional teams Oakland Blast and San Antonio X-Factor geared up for a shot at third with the Texans taking it home. St. Louis Avalanche dropped to DC Arsenal, Lanche getting second place while Arsenal took home first.
The USPL will next move to the east coast for the DC Challenge at Pev's Paintball Park at the end of August.