Odyssey O3
By Bill Mills - Nov 2004
WARPIG Ballistic Labs Test Results
Test Subject: Smart Parts Shocker 03
Paintgun and Air System: OGI 03, Crossfire 4500-68
Variable: Rate of Fire
Paint: DraXxus Hellfire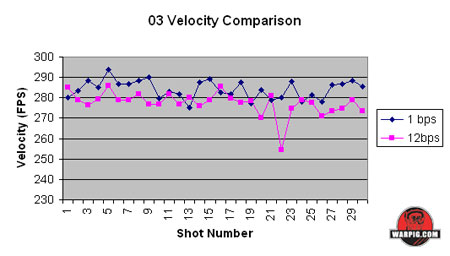 | | | |
| --- | --- | --- |
| Shot Number | 1 bps | 12 bps |
| 1) | 280.2 | 285.0 |
| 2) | 283.4 | 279.0 |
| 3) | 288.6 | 276.2 |
| 4) | 285.2 | 279.2 |
| 5) | 293.6 | 285.8 |
| 6) | 286.8 | 279.0 |
| 7) | 286.6 | 278.8 |
| 8) | 288.6 | 281.8 |
| 9) | 290.0 | 276.8 |
| 10) | 279.6 | 276.6 |
| 11) | 283.0 | 281.6 |
| 12) | 281.8 | 276.8 |
| 13) | 275.2 | 280.2 |
| 14) | 287.6 | 275.8 |
| 15) | 289.2 | 279.0 |
| 16) | 282.6 | 285.6 |
| 17) | 281.8 | 279.6 |
| 18) | 287.6 | 277.8 |
| 19) | 277.4 | 278.4 |
| 20) | 284.0 | 270.0 |
| 21) | 279.0 | 281.0 |
| 22) | 280.2 | 254.4 |
| 23) | 288.0 | 274.6 |
| 24) | 278.2 | 279.0 |
| 25) | 281.4 | 277.8 |
| 26) | 278.2 | 271.0 |
| 27) | 286.2 | 273.6 |
| 28) | 286.8 | 274.6 |
| 29) | 288.4 | 278.8 |
| 30) | 285.6 | 273.4 |
| | ----- | ----- |
| High: | 293.6 | 285.8 |
| Low: | 275.2 | 254.4 |
| E.S.: | 18.4 | 31.4 |
| Ave.: | 284 | 277.2 |
| S.D.: | 4.4 | 5.6 |
| 95%: | ±2.0 | ±2.0 |
Understanding the Summary Data
High: This represents the highest velocity in the recorded string of shots.
Low: This represents the lowest velocity in the recorded string of shots.
E.S.: Extreme Spread - this is the difference in velocity between the highest velocity shot and the lowest velocity shot.
Ave: Average - this is the average velocity of the string of shots. This is the number to look at to compare whether velocity is increased overall, or decreased overall by a change in a variable.
S.D.: Standard Deviation - S.D. Is a mathematicall way of expressing how close most of the shots are to the average. The lower the Standard Deviation is, the more consistent the velocity is.
95%: This is an easier to understand way of expressing consistency. Statistically, there is a 95% chance than a given shot will vary this amount or less from the average.